What Is It?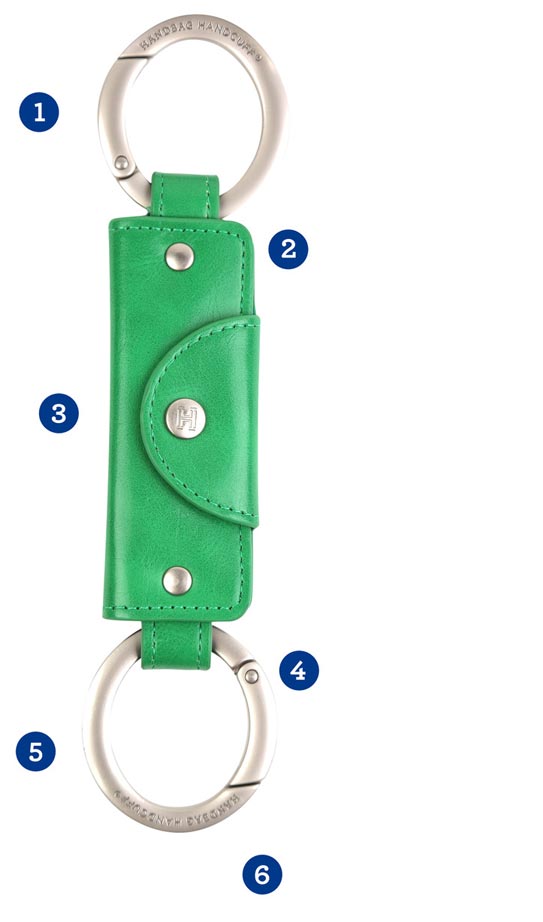 1
TOP CUFF
Easy, one-hand click action secures your bag anywhere you want, such as to the headrest post of your car, shopping cart, and stroller basket frame.
2
POUCH
The pouch is the perfect place for emergency cash, contact information or a spare key. It is made of durable, stain- and fade-resistant materials free of animal by-products. You can find our interlocking HH logo on the pouch liner. The interior label identifies this as a genuine Handbag Handcuff®!
3
SNAP
The snap features our trademarked Handbag Handcuff®; logo and will keep your pouch closed and the enclosed auxiliary strap in place.
4
RIVET
More than just a decorative element, the rivets have been designed to enable the auxiliary strap to swivel downward and connect to the bottom carabiner.
5
BOTTOM CUFF
This other workhorse is identical to the top carabiner. The same one-click action connects to your bag's strap, keeping your bag right where you want it.
6
AUXILIARY STRAP
Not to be overlooked, the auxiliary strap threads through multiple bag handles and tucks away when not in use. Made of nylon webbing, the auxiliary strap rotates on the lower rivet. The correct orientation of the Handbag Handcuff®; (shown here) allows the auxiliary strap to pivot and achieve maximum functionality. Click here to learn how to use the auxiliary strap.